This is a two for one post.. I am going to update you on the boat and do a quick review or first impressions if you will, of the Critter Sprayer.

I believe I mentioned previous that I read somewhere that all/most/some Baidarka frames were dyed red. No idea why and not sure if anyone knows. I would guess they used blood to stain them and it was for religious or superstitious reasons. I always thought it was a neat idea and red will contrast with the painted skin really well, so that is why I wanted to try it.

I asked on a wood working forum I frequent and the overwhelming consensus was to use Aniline dye. It will mix with a lot of different media and water was the one thing I had plenty of. So I heated some water, added the dye till it was dark blood-red and them put it in the fridge to cool.

I set up the frame outside and here you can see the end results. The new wood accepted the color much better and is much brighter. The old wood is darker and looks more like a blood-red color. Once it is skinned I think it will look quite fine. The new wood is mostly hidden and I don't expect the differences to nearly as noticeable.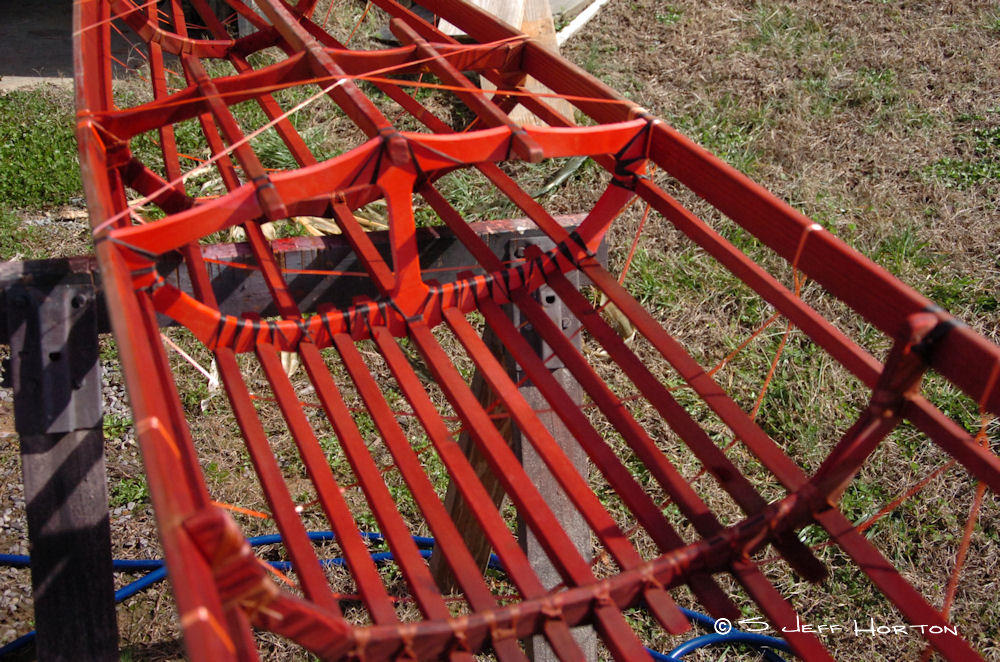 Now, the Critter sprayer. Just start by saying I am impressed over all. It worked well and clean up took 3, minutes TOPS! It take 30 minutes minimum, to clean my HVLP gun and it is lot messier to clean.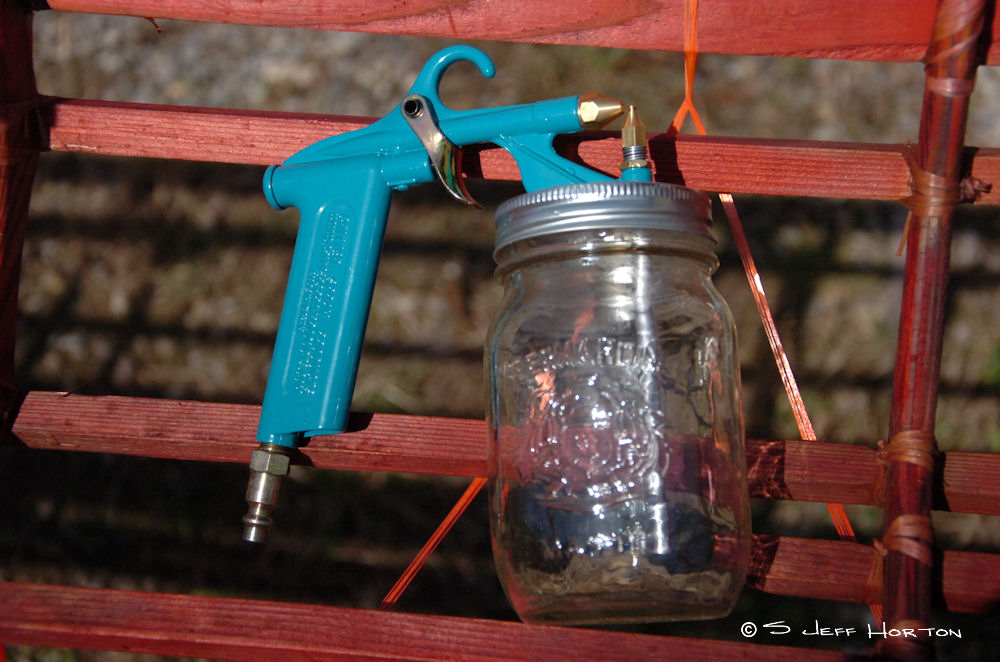 The only thing I didn't like was the vent hold It has a small hole to allow air into the mason jar on top of the lid. Trying to spray inside the boat and I would be holding the gun at odd angles and that allowed a little dye to leak or slosh out the vent hole. So of course I ends up on my hands. With something thicker than water I think it would be much less likely to leak out the vent hole. After realizing what happened I paid more attention to the angles I held the gun and it didn't happen again.
It has one spray pattern, a round(ish) smaller spray pattern and you can't adjust it. It's much like spraying with a rattle can but larger. It took 3 or 4 times adjusting the siphon nozzle height to get it like I wanted. But again that was easy and quick to adjust.

You find the Critter sprayer online for $40 or less. It looks like a toy but my first impressions say otherwise. It is much like an over sized air brush. I wouldn't want to paint anything really large with it, but as easy as it is to clean…. it might be worth the extra time it would take. I really hate cleaning a spray gun.