One of the biggest frustrations around here is finding decent lumber. These boats take so little lumber that I can not justify the cost of having lumber shipped in so I have developed a way to deal with what we have. I start by buying the best I can find. Even if I don't have a need I check the bins and when I find a good board I go ahead and buy it and just put it in the rack.
I have never find clear lumber but sometimes I get lucky and find some with small knots or flaws. I will try to find the best way to rip these so that I can get the most out of board. Most of the stringers are going to end up with some flaws in them. So I cut a scarf and then glue the shorter pieces up into longer lengths. To cut the scarf joint I am using a jig I made. If your not familiar with a scarf joint is basically just a long taper cut.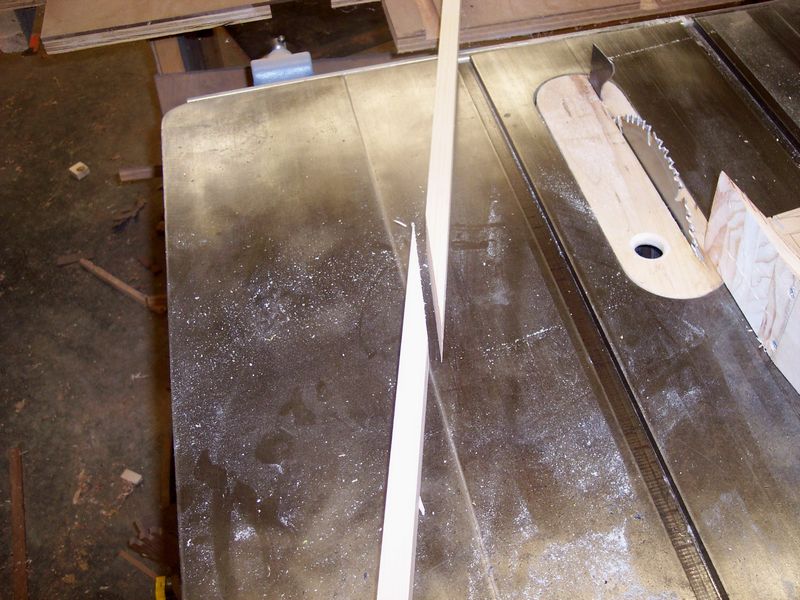 These are typical cut at a ratio of 8 to 1 or more. The means that if the material is 1" think if you measure the face of your cut it should be at least 8" long and there is nothing wrong with it being longer. Many people recommend 12 to1 ratio. Once this joint is glued together, if done properly it is stronger than the wood itself.
I had a bad accident while cutting scarfs on the table saw. A small cedar cutoff was kicked back at me and hit my thumb. It bascially ripped off the nail and needless to say it wasn't pretty. That lead me on a quest for a better jig and here is what I have come up with. This jig has been through several versions and this is about as good as I can get it.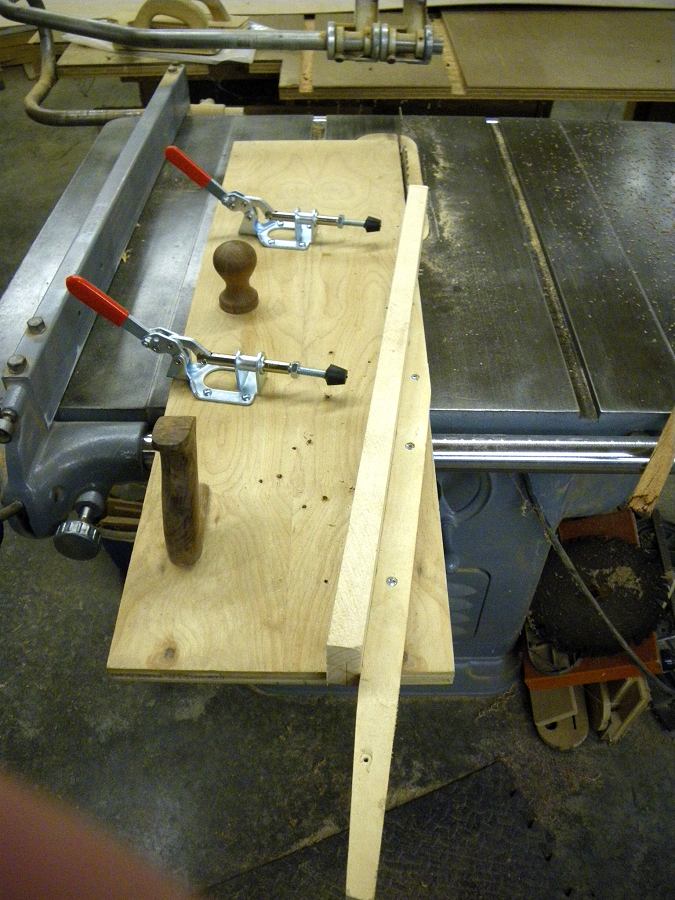 Keep in mind this is made from scraps in the shop and was my final prototype. Now that I have a good design I will be replacing the two boards with a single solid block of wood and trimming them up to look better. There are two things about this jig that greatly improve it over what I had. The biggest is the that you are standing behind the blade and out of "the line of fire" if it does launch a cut off. The other is that the sled is not on both sides of the blade. This was the cutoff falls on the table saw and doesn't stay on the sled. If you make a wide base the cutoff can vibrate behind the blade and if you pull the sled back IT WILL launch the cut off when it touches the bade.
Some will argues that the cutoff can slide between the blade and the throat plates so this is not a good idea. While it is true that it can it just makes a horrible noise and worst case stalls out the saw. That is a lot safer than having a missle rip apart your thumb!