This thread ran about a year ago...
http://www.messing-a...hp?topic=5839.0
....and got me to thinking about how fast various woods weather and rot. So I have been running a little test. Several scraps of wood and plywood, just tossed outside to weather on a pile of brush near a woodpile. They went out there May of 2007 and have been rained on, snowed on and generally left to rot. Area is shaded, but these were on top of the heap, so they would drain off and dry out as moisture left. Maybe not the best test conditions......but it's what I did. A better test for what we do might be to glass most of it, but leave a section open to allow moisture in, but not out.
Here is what I started with:
and these plywood scraps....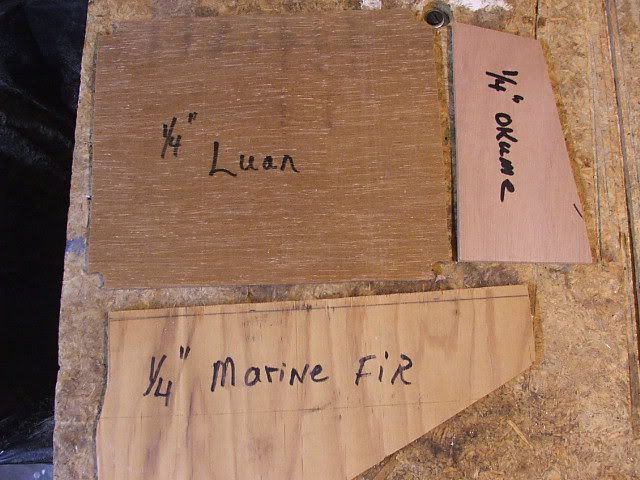 After one year, here is what they look like: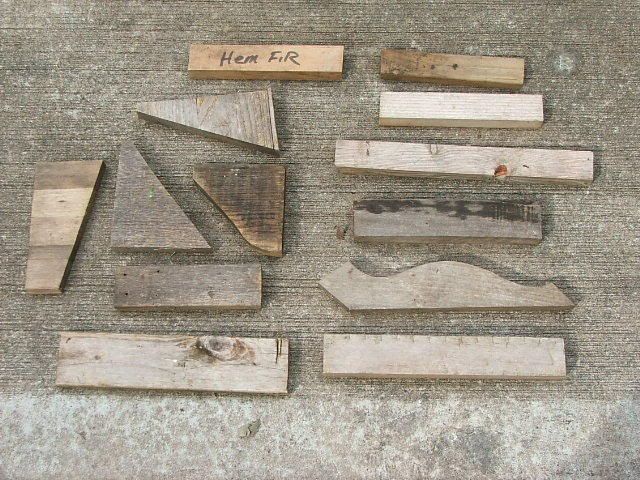 (Scrap of Hem Fir was added to the pile after the first photo)
and the plywood and some laminations...
Surprise so far is how good the doug fir and hem fir and even spf look. The ash, red oak and white oak have turned a dark grey and don't look too hot. Another surprise is the yellow pine, which looks like it's taken on more water than any of the rest. The cherry has turned really dark, but doesn't look like it has much rot. The cypress and western red cedar still look good, as does the CCA and Black Locust.
The plywoods don't look to bad....that is some OSB for reference, which I figured would go down fast. It hasn't. Despite what they say about not being durable, the Okume is holding up better than the 1/4 inch marine fir or luan.
The long skinny laminations are strips of black locust and osage orange (aka, hedge, bodark, etc.). They were bent to the point of breaking. This was to test a stressed lamination of oily woods to see how well the epoxy would hold up. The busted up one is black locust. One strip did break while still in the clamps (knot), so ignore that. It looks ok so far. The osage orange has developed a small hairline crack in the glue joint of one laminated strip (System 3 Gel Magic with 30/100 walnut shell mixed in for spacer), and looks like it has started to come undone. Osage orange is a very hard, very rot resistant hardwood, that has some oil content. It's used to make long bows, so is very springy and tough. Almost indestructable. It might make a substitute for teak, but is hard to find in straight sections. But it may not hold glue well. Other than some light fading, the wood looks just like it did when it went outside. No hint of rot.
Lastly, here is a piece of luan plywood, glassed over. Half was painted and half varnished. The edges were sealed with epoxy, but not painted or varnished. The paint is System 3 LPU, with the hardener and clear coat. Those dark areas are the System 3 non-skid granules, which trap dirt and have looked dirty like this since nearly day one. BTW, the first picture was from a year ago, and the second is current, but this piece has been outside now just as you see it for at least 3 years.
and current....
I guess the point is if you want to cut down on maintenance, paint it.
I'll leave em out another year and report back next summer.